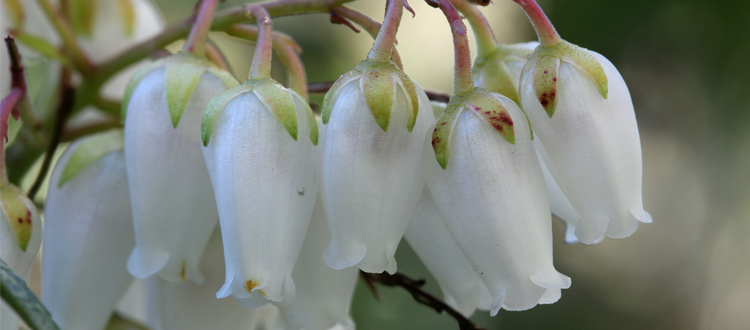 5 Blooming Shrubs for Your Atlanta Landscape & Garden
For better landscapes, lawns, and gardens, it is always good to spice things up with landscape shrubs. Landscape shrubs provide the desired beautification that will leave you wowed, as its beauty serenades your environment with a colorful irresistibly colorful attraction. They are always blooming and can provide privacy for your home, food for insects and other forms of wildlife, and shelter in times when you need a beautiful place to hang out.
At fasttreeremovalatlanta.com we commonly see many varieties of landscape shrubs. In order to make the best choice for your garden in the city of Atlanta Ga, you may need to consider checking out the landscape shrubs listed below, to know which ones would suit your taste the most.
Andromeda – This is a broadleaf evergreen shrub from Japanese decent, which has many uses in the garden. It can grow to a sprawling height of up to 20 feet, and width of up to 10 feet and changes color as the seasons pass by. It is also called lily of the valley because, in early spring, it develops clusters of white flowers that resemble lily of the valley bloom. Sometimes, some pink flowers spring up, and at other points, the flowers turn reddish. This unique color changing characteristic makes Andromeda an irresistible choice of shrubs to use in beautifying your garden.
The Japanese Andromeda or Pieris japonica is best enjoyed when it is left uncut for a long time, and the pruning should only be done when the flowers fade. It is best planted in spring or fall.
Aucuba – Aucuba japonica is a most known for being resistant to adverse weather conditions. It is native to China, Korea, and Japan, and is peculiarly predominant in rich forest soils of moist valleys, thickets and shaded wet rocks. It can withstand polluted and salt-laden coastal winds, which may not actually be a problem for Atlanta Georgia gardens.
It is also known as spotted laurel or gold dust plant, can grow up to a height of 6 to 10 feet and can spread up to 10 feet, and its foliage covers its flower and fruit.
The Aucuba is best combined with yellow-blooming or variegated plants for appealing color harmonies, and if a male grows nearby – in the fall – attractive, bright red berries replace its flowers. It quickly adapts to indoor conditions; hence it can make a nice container shrub or house plant.
Florida Anise – The Florida Anise is another broad-leafed evergreen shrub for your garden. It is popularly called Star Anise, as its fruit bears the shape of a star. It grows up to a height of 10 to 12 feet and a width of 5 to 8 feet. It has lathery smooth and shiny leaves, which gives it its beautiful appeal. This shrub tolerates moist soil and is also drought resistance.
The flowers have a peculiar odor, which is poisonous to it predators, and thus helps it adapt to its environment. It provides the best shade from the morning sun.
Banana Shrub – This shrub, also known by its scientific name, Michelai figo is an evergreen tree that can grow 6 to 15 feet in height. Its beautiful flowers are creamy-white, purple rounded or light-purple, and have a beautiful fragrance. The leaves are leathery, glossy and green, they can grow up to 3 inches in length, and the new ones are covered in rusty toned fuzz.
It is most beautiful in late spring when it develops cup-shaped cream rose or maroon colored flowers, which smell like ripe, sweet banana, which will give your garden a refreshing smell.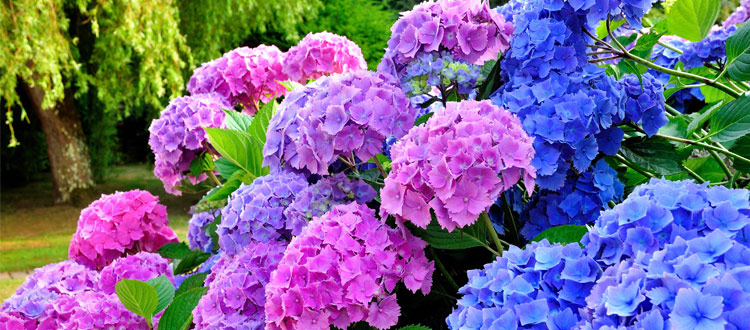 Hydrangea – This beautiful shrub blooms from early spring to late autumn when other flowers have withered away. They grow in flower heads, which look like cheerleaders' pom-poms, mostly at the end of the stems. The flower heads often contain two kinds of flowers, the small flowers in the center, which are not always visible from the outside, and the large colorful ones with beautiful petals which give it its characteristic ornamental look.
The colors sometimes range from white to blue, pink, rose and lavender, and in some cases, all these colors may be present in the same flower. Apart from those bearing white flowers, the color of the flower is mostly dependent on the pH of the soil. As the pH changes, its supply of aluminum ions changes, and the resulting effect of this is an alteration in the color of the flower.
Popular Shrubs for Atlanta Landscaping
These perennial plants give your garden not only a year round beautiful look, but they also offer you some level of privacy, while remaining eye catching and a focal point to passersby. They are also excellent wind breaks when planted in groups, and most importantly, they give your landscaping a beautiful, dramatic and picturesque design. These shrubs require very little maintenance, offer food for wildlife and beautiful shade for one to relax. They are suited for all weather and seasons.
Fast Tree Removal Services Atlanta
3379 Peachtree Road #555a, Atlanta, GA30326
(404) 220-9965