5 Shade Tree Species for Your Atlanta Home
Cool breeze wafts gently through the air. The sweat that flows down your brow indicates the characteristic humidity of an Atlanta summer. Despite the heat, you want to enjoy the cool breeze in your backyard. Shade trees are the perfect solution to this conundrum. Besides providing shade on a humid summer day, shade trees also increase a property's value, improve landscape, and reduce soil erosion. There are certain shade tree species that thrive in Atlanta, Georgia: Crape Myrtle, River Birch, Weeping Willow, Sycamore, and Sweet Gum to name a few. Read below to learn characteristics about the various species, and talk to our tree specialist www.fasttreeremovalatlanta.com for help planing your new shade trees.
Choosing the Best Tree for Your Georgia Yard
There are three important considerations when choosing a shade tree: the size of your yard, type of soil, and the aesthetic appeal you desire. Before purchasing seeds, conduct a simple soil test. Use the results of the analysis to help you select the right tree. If you have a small yard space, don't plant trees that will be very large when they mature. Finally, choose a shade tree that matches your general landscape. The following facts about the 5 shade trade tree species mentioned can help you make an informed decision about the right tree to plant in the yard of your Atlanta home.
Crepe Myrtle – Crape Myrtle's are gorgeous plants that release a variety of colorful blooms all year long. They perform best during autumn, can be planted at any time of the year, and grow to medium height. Soil with a pH of 5 to 6.5 is ideal for a Carpe Myrtle. Carpe Myrtles benefit from summer's humidity and shouldn't be excessively watered. There are 3 types of Crepe Myrtles: Japanese Crepe Myrtle, Crepe Myrtle, and Queen's Crepe Myrtle.
The Japanese Crepe Myrtle produces clusters of small white flowers in the early summer and blooms again in the late summer. It reaches a maximum of 30 feet in height and width. The Crepe Myrtle performs well in well-drained soils. It can withstand severe winters and produce white, pink, red, or purple blossoms in the summer. The bark peels off to reveal an inner bark with a pinkish hue. It can grow as a dwarf shrub or a small tree. Finally, the Queen's Crepe Myrtle is the most beautiful of the Crepe Myrtle varieties. It produces clusters of white, pink, lavender or purple flowers in June and July. It can grow up to 30 feet tall and 15-25 feet wide.
River Birch – The River Birch is a large shade tree with wispy branches that provide the perfect shade. It grows to a maximum of 70 feet high and 60 feet wide. It performs best in acidic, loamy, moist, sandy, well-drained, wet and clay soils. April and May are the tree's favorite months for brown and green catkins growth.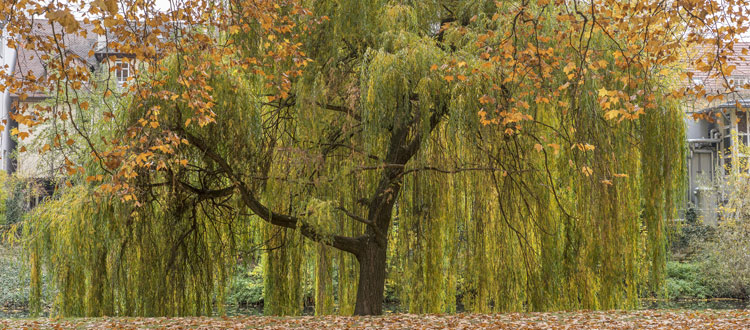 Weeping Willow – The Weeping Willow is one of the most common and intriguing shade tree varieties. With more than 400 varieties, the Weeping Willow provides you with several options. Most Weeping Willows grow to a maximum of 40 feet tall. Weeping Willows thrive in a pH of 6 to 8. They are often found near rivers, but are highly adaptable. However, you must be careful when planting this tree. It has an expansive root system that overtakes the surrounding soil in a very wide radius. It is, therefore, best for a Weeping Willow to be planted far away from homes and roadways.
Sycamore Tree – Sycamore trees grow to as high as about 125 feet in height and often have a diameter of 6.5 feet. Their dark green leaves become bright yellow when autumn begins. Perfect for large landscapes, the sycamore tree provides an expansive shade. These trees prefer deep, rich soil that is well drained.
Sweet Gum – Often touted as one of the most attractive shade tree varieties, the Sweet Gum tree is a favorite of people with large yards. In the autumn, the tree's leaves transform into gorgeous shades of yellow, orange, red, and purple. It can grow to a maximum of 75 feet tall and 50 feet wide. Star-shaped leaves are the characteristic features of this tree. Like the Sycamore and Weeping Willow trees, the Sweet Gum tree needs a lot of room for root growth. The Sweet Gum tree prefers soils with an acidic pH.
Rich beauty and a well-sheltered yard are two of the reasons you should make a shade tree a part of your Atlanta landscape. Pay attention to your soil's pH and yard size when considering which shade tree to plant.
Fast Tree Removal Services Atlanta
3379 Peachtree Road #555a
,
Atlanta
,
GA
30326
(404) 220-9965