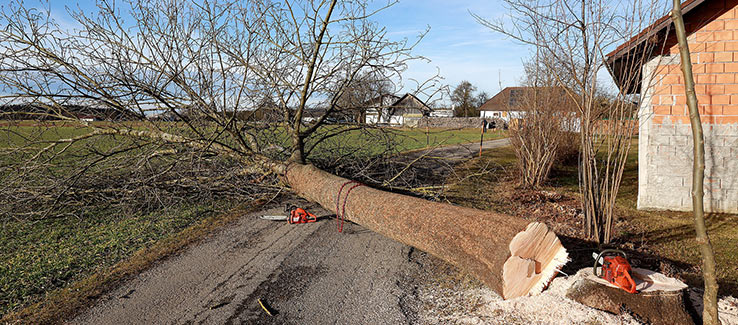 2021 Tree Removal and Emergency Removal Cost
Prevent over-paying or not knowing how to use insurance next time you have to cut down or remove a tree. When you know how much to pay for routine or emergency tree removal, you can confidently contract a tree service and quickly address the concerning tree.
fasttreeremovalatlanta.com gathered the following information about tree removal costs, what factors influence those prices, how to tell professional tree services apart from "storm chasers," and provide answers to some of the most common frequently asked questions.
How Much it Costs to Cut Down and Remove a Tree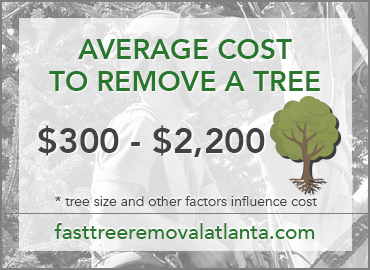 On average, you can expect to pay from $300 to $2,200 to have a tree professionally cut and removed by a licensed and insured company. There are several factors that influence cost that are outlined and explained below.
Factors Affecting Tree Removal and Pricing Estimates
Estimates are often done free of charge, and your quoted estimate will depend on multiple factors, including:
Minimum Scope Service Fee – For a professional, licensed, insured, and bonded tree service to mobilize equipment and crew to perform the smallest unencumbered tree removal, $300 is oftentimes the minimum charge.
Note: Minimum service fees vary by region, demand, and tree service.
Service Area – Tree services generally work within territories. If your location is outside their territory, a travel fee may be assessed and added to your quote.
Tree Size (Considering Height & Trunk Diameter) – The size of the tree plays a significant role in determining how much its removal will cost. Consider this tiered pricing guide as a quick reference to determine the typical tree removal cost:
SMALL (tree up to 25′ tall): $350
MEDIUM (tree 25′ – 50′ tall): $350–$850
LARGE (tree 50′ – 100′ tall): $850–$1,500
EXTRA LARGE (trees over 100′ tall): $1,500+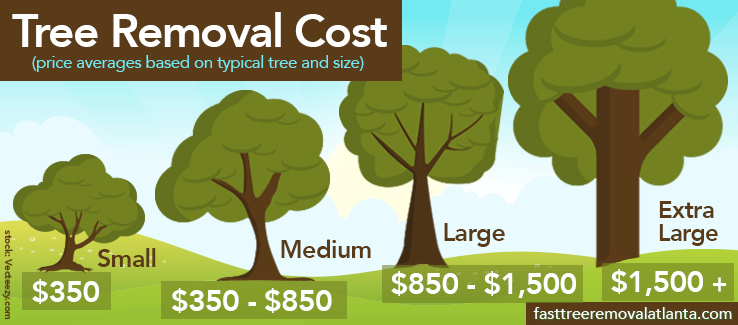 Tree Location, Obstacles, and Ease of Access – The more difficult it is to gain access to the tree, the more it will cost to remove it. Some influencing factors may include:
Fences
Graded Terrain (hills and valleys)
Structures or Nearby Property
Power Lines
Your tree service's ability to get equipment and necessary machinery to the tree significantly influences how the job will be priced.
Manpower – The more complex your tree removal is, the more manpower will be needed to safely execute it. Thus, the more it will cost.
Trunk Diameter – This becomes a factor for some tree species that may not grow as tall, but can grow wide with a massive trunk and limbs. Thicker trees may require significantly more effort to remove, meaning more time and manpower required on the project which may influence the price significantly. These trees are evaluated and priced on a case-by-case basis.
Note: The above prices are estimated and for demonstrative purposes, as they do not account for other price influencing factors.
Crane Assisted Tree Removal – Some trees can grow to massive proportions, reaching heights over 100 feet tall. Being this tall can be challenging to remove, and the American ash, some oaks, and maple species often reach these neights.
These oversized trees can cause significant damage when they fall, and they often require more involved measures, such as using a crane for their safe removal.
For a crane-assisted tree removal, charges for the crane consist of a daily rental fee, crane operator fees, fuel, transportation, and permits. These rates are expensive and may run:
80-ton capacity hydraulic boom – $5,500 for the day

Crane-assisted tree removal jobs are evaluated and quoted on a case-by-case basis.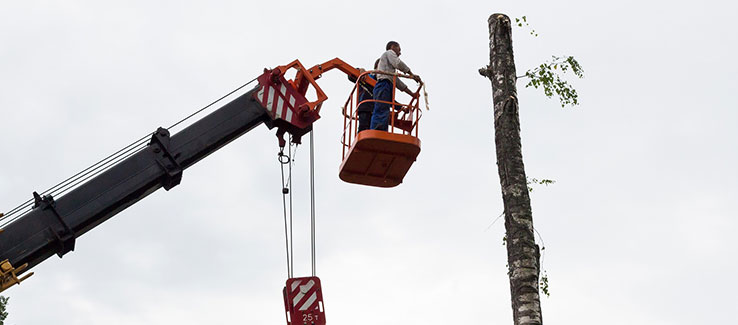 Note: These types of tree removal jobs can be very costly and are typically applied to your insurance claim for the tree's removal.
Tree Species – Some tree species like hardwoods are significantly more challenging to cut and remove (oak, hickory, maple), while softwood species are easier to cut through and remove (pine, fir, spruce).
Tree Condition – A rapidly declining or decaying tree may pose exceptional risk to surrounding property, equipment, and the crew to remove it. Even though professional tree climbers use state-of-the-art safety equipment, severe injuries or worse become more of a potential as the tree's condition declines.
Risk Assessment – Also referred to as Risk Valuation, this variable takes the tree's condition, the terrain, and all potential threats to crew members into account. Risk assessments also influence claim values when activating an insurance policy.
Note: A risk assessment can influence the speed and tree removal process. High risk jobs require more time and preparation to ensure the crew, equipment, and property safety.
Emergency Tree Removal – If your tree is severely damaged or leaning, and something must be done immediately to prevent property damage and/or personal injury, you can expect to pay a premium to have your tree removal fast-tracked. Emergency tree removal services are generally covered by your homeowners insurance policy. Contact your insurance company to confirm this before paying for any service out-of-pocket.
Wood Removal – After cutting a tree down, removing and disposing of the "logs" has a great impact on your tree removal job cost. Besides the manpower to remove the wood from your property, landfills and dumping sites charge the tree company a substantial fee to use their facilities.
Note: This fee may vary based on local dumping/disposal ordinances or requirements.
Tree Cutting Without Wood Removal – There are some alternatives to removing the wood that can save you money. Consider the following:
Leaving the tree to decompose on your property (not recommended in cases of boring insect infestations and disease)
Cutting the tree for firewood
Submersing the tree in a creek, pond, or river
Selling or giving away the logs to woodworkers (when you have substantial hardwood)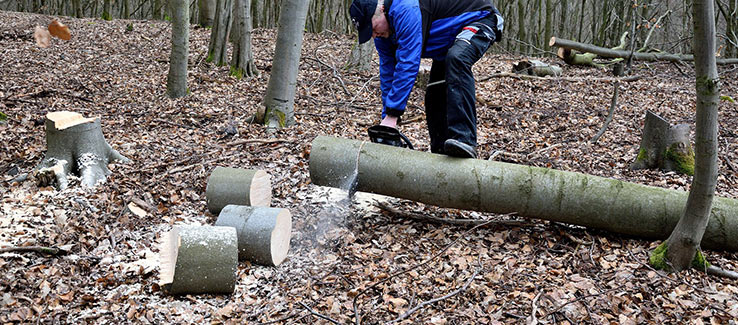 Tip: As logs decompose, they return valuable nutrients and bio diversity to the soil, greatly enriching it for other plant life, surroiunding trees, and gardens.

Stump Grinding – If you want the tree stump removed as well, you can expect to pay between $3 and $5 per inch in diameter. Most tree services will have a minimum fee for this service.
Land Clearing – For development of land or construction projects, a land clearing company charges an hourly fee ranging from $100 to $300 per hour, and includes removal of the trees and stumps.
Tree Ordinances, Permits, and Licensing – If your tree is located on property within a heavily regulated municipality, you can expect to pay more than the average price. Tree professionals and arborists servicing your area should be knowledgeable of the local tree ordinance and permit process.
Seasonality – Spring and summer months (busy season) see a slight increase in tree removal pricing. In contrast, the fall and winter months (slow season) see a slight decrease.
Note: Depending on the weather in your region, it may be prudent to remove troubled trees outside of the typical storm season. When a severe weather system brings your tree down and causes widespread tree damage, you may find yourself on a long waiting list at a much higher price.
Emergency Tree Removal Cost and Insurance Claim
When a tree or a section has fallen and damaged your home, vehicle, property, or rendered a part of your property inaccessible, it may be time to activate your insurance policy. Many policies (after the deductible is paid) cover the cost of the tree removal, damage repair and property restoration. In such cases, regardless of the urgency, thoroughly vet who you intend to contract and consider the following:
Hiring for High Risk Removal and Insurance Claim Processing – An emergency tree service owned and/or operated by a certified arborist can assert a higher level of authority when pricing an emergency tree removal job and negotiating with your insurance company. The specialist or arborist should:
Meet with you before and throughout the project, keeping you abreast of progress and setbacks.
Disclose everything they are charging for, including risk/hazard assessment, tree removal, required permits, etc.
Disclose precisely what will be billed to your insurance company.
Tree services and emergency tree removal can involve significant amounts of time, expertise, equipment, effort, and money. It is very common for unqualified and unethical players in the tree service industry to rush in and land an emergency job, take dangerous risks, and lack the knowledge of how to support the claim and work to the insurance company, all of which puts the customer at risk.
While property owners are generally only responsible for the deductible and charges past your coverage limits, you should hire seasoned professionals that will protect your claim's integrity, and be transparent and upfront. Unethical or dishonest actions can result in your claim's denial, leaving you to foot the bill.
Note: When a tree falls, damaging your home, fence, shed, or other structure, your homeowners insurance policy is activated. However, when a tree falls on your vehicle, it is the comprehensive part of your auto insurance that is activated.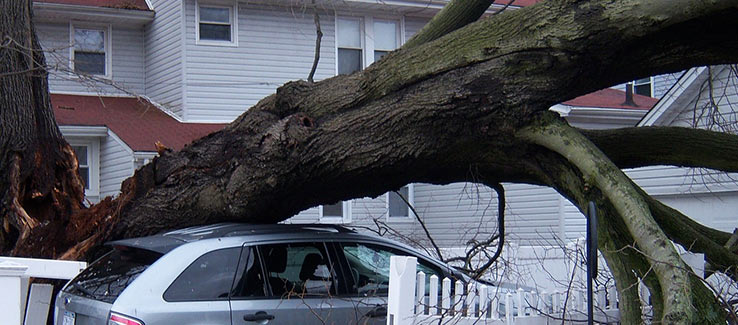 Frequently Asked Questions
Question: Should I prune or remove my tree?

Answer: This decision should be based on a thorough tree risk assessment that takes size, age, and condition into account.
If a troubled tree can be made safe by pruning it, have it pruned and ultimately removed when necessary. Most professional tree services will offer a free quote with recommendations. Tree trimming ranges from $100 to $1,500 mostly depending on size and risk.
Question: Do I need a permit to remove a tree?

Answer: Sometimes. In some cities and counties, you will need a permit to remove a tree (especially if the tree is located in a historic district, is designated a specimen, or historically significant tree). However, other cities may allow tree services to remove trees without needing permits or approval. Check the rules and regulations of the municipality in which the tree is located.
Question: Why should I hire a licensed and insured tree service?
Answer: In the event of an accident involving personal injury, the tree service's insurance shields you from liability and being held responsible. If you hire a person or company with no insurance and an accident occurs, you can be sued and held liable for injuries and financial compensation to injured parties.
Question: Are there special requirements when trees interfere with power lines?
Answer: Yes. According to the Occupational Safety & Health Administration (OSHA), "All tree trimming or removal work within ten feet of a power line must be done by trained and experienced line-clearance tree trimmers. A second tree trimmer is required within normal voice communication range."
Question: Will the power company cut my trees free of charge?
Answer: Not likely. For trees interfering with power lines over (and serving) private property, contact the power company to de-energize and ground or shield the power lines while your tree is being professionally pruned or removed.
Note: Never approximate or touch a tree interfering with power lines. If the tree is energized, it could cause severe injury, including electrocution.
Question: How do I locate an arborist near me?
Answer: You can find an arborist or verify an arborist's credentials by visiting Trees Are Good at treesaregood.org/findanarborist, or calling the International Society of Arboriculture (ISA) at (217) 355-9411
Question: How do I vet a tree service or arborist?
Answer: 1) Google them and read through their reviews, noting their rating and/or complaints. 2) Ask them to present their business license, proof of insurance, and job references. This will help you eliminate the unethical companies looking for desperate people at their most vulnerable moment.
The Price to Cut Down and Remove Trees
In this article, you discovered essential information about tree removal costs, what factors impact those prices, how to vet an arborist or professional tree service, and answers to some frequently asked questions.
When you know what goes into formulating a tree removal or emergency tree removal estimate and how to vet contractors, you can avoid predatory type individuals trying to overcharge their services while delivering poor or incomplete results.
Hiring an unqualified service for your tree removal can result in being overcharged, insurance claim denial, or the liability from a catastrophic event.
Sources:
purdue.edu/fnr/extension/why-is-tree-work-expensive/
extension.arizona.edu/sites/extension.arizona.edu/files/pubs/az1003-2020.pdf
Fast Tree Removal Services Atlanta
3379 Peachtree Road #555a
,
Atlanta
,
GA
30326
(404) 220-9965
Fast Tree Removal Services Dunwoody
2111 Peachford Cir
,
Dunwoody
,
GA
30338
(404) 220-9963