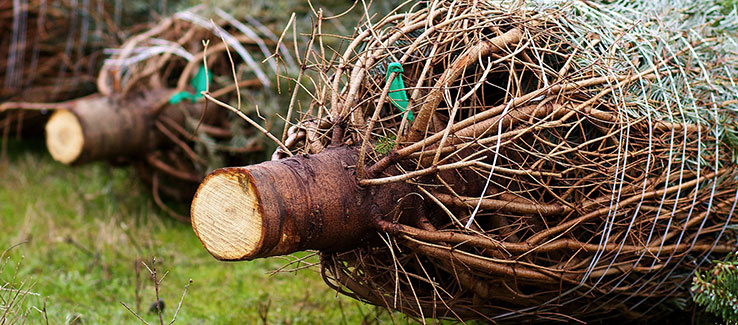 How To Care for Your Live Christmas Tree
You can prevent your cut Christmas tree from dying prematurely. By taking a few simple steps, you can make it last weeks longer than expected. With some easy care, a cut tree can stay fresh and beautiful while lasting well into the new year.
fasttreeremovalatlanta.com gathered the best care tips to keep your live Christmas tree from drying out, looking ugly, and becoming a fire hazard.
Buying A Healthy Christmas Tree
Caring for a live Christmas tree starts with the selection of a healthy tree. If you choose to buy a tree from a roadside lot, a pop-up lot, or a garden store, the tree has likely traveled a great distance and been exposed to drying wind and sun throughout its journey.
To get the freshest tree possible, look up the nearest Christmas tree farm or "Cut your own" tree farm. In either case, the following tips will help you select the ideal Christmas tree:
• Select from trees in shady areas. Cut trees exposed to the sun will have already lost significant moisture.
• Look for a robust, full, and green tree with minimal brown needles.
• Feel the branches. The needles should feel pliable and the branches flexible.
• Inspect the tree branches and needles for insects and boring insect holes in the trunk.
• Lift the tree and drop it on its trunk. Minimal needles should fall from the tree.
• Have the vendor mechanically shake the tree to get rid of dead or dried needles.
• Have the vendor cut one inch off the bottom of the trunk and wrap it (if you have the tools at home to do this safely, wait until you get home).
Tip: When transporting your tree, it should be wrapped and protected as much as possible from the wind and sun. If you are going to tie it to the top of a vehicle, the trunk should be facing forward to avoid stressing the branches and needles.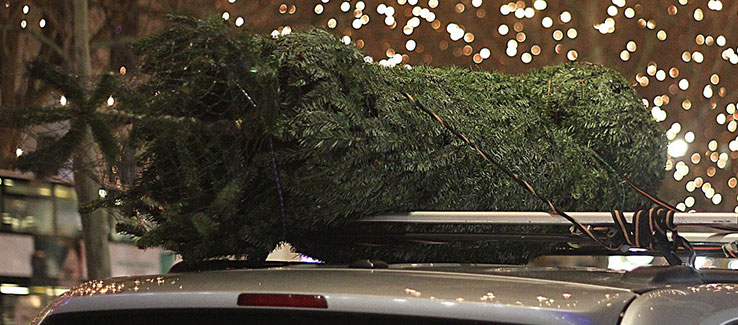 Watering Your Christmas Tree
The most significant help you can give your tree is making sure it has water to "drink." Display your tree in a reservoir type stand, this is the most effective way of maintaining its freshness and minimizing needle loss. The following will help you keep your tree adequately watered throughout the holiday season:
• The trunk should be cut straight across for maximum water absorption.
• The stand should fit your tree. Don't whittle the sides or remove the bark to make it fit, as this removes the xylem and phloem needed to absorb water.
• The stand should be filled with 1 quart of water per inch of trunk diameter and maintained at this level with the base of the trunk fully submerged.
• Check the water level daily to ensure that it does not fall below the base of the tree.
• Use plain, room-temperature tap water.
If you choose not to set the tree up in the house immediately, you can store it in a cool, dark place, like your garage. Place the base of the tree in water to keep it fresh.
Note: When a cut tree doesn't drink water, it is likely due to dried resin (sap) where the trunk was cut. In most cases, this is resolved by making another cut, one inch above the original cut, and getting the tree into water immediately after making the cut.
Choosing Your Christmas Tree Location
By safeguarding your Christmas tree from heat sources, you can significantly slow the tree's drying process. Some common heat sources to avoid include:
• Fireplaces
• Space Heaters
• Heat Vents
• Direct Sunlight
• Ceiling or Wall-Mounted Light Fixtures
Tip: By lowering the average room temperature by a few degrees, you can slow down the drying process. The tree, in turn, will consume less water.
Decorating Your Christmas Tree
When you decorate your tree, avoid piling on the decorations. The following will guide you through the decorating process for a safer and more stable tree.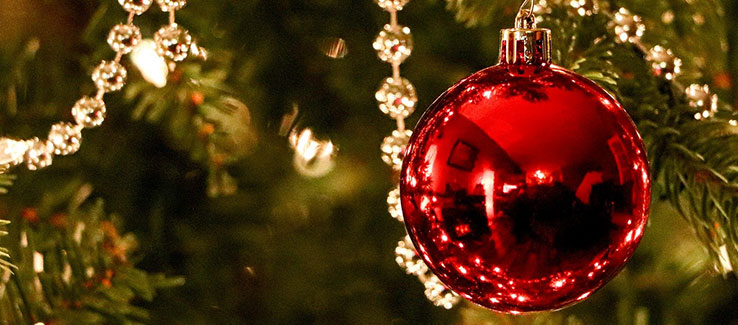 Christmas Tree Lighting – Use lights that produce minimal heat. Miniature lights and led lights will reduce the drying of the tree significantly.
Before putting anything electrical on the tree, inspect all of the wiring. If you find loose connections or frayed wires that are not easily repaired, discard, and replace them.
Do not allow any wiring, lights, or electronic decorations near the base of the tree. Water and electricity can be a deadly combination.
Avoid overloading electrical circuits and outlets. If your tree lights are not on a timer, be sure to turn them off when leaving your home or going to bed.
Tip: A popular method of Christmas tree lighting includes wrapping one strand of lights deep in the tree (close to the trunk) and a second strand weaving from the middle to the extremities of the tree. Led lights make this lighting method possible without accelerating the drying process.
Christmas Tree Decorations – Use lightweight decorations that hook or fasten to branches easily. As a general rule, if an ornament causes a branch to sag or bend over, it is too heavy for that branch.
As your tree ages and dries, its branches may become brittle and unable to support the weight of heavy ornaments.
Tip: Larger or heavier ornaments should be fastened to the lower branches of the tree. Those branches are sturdier and can handle a heavier load. If the ornament causes those branches to bend, repurpose the ornament or put it away till next year.
Taking Down Your Christmas Tree
When the holidays are over, and you decide to take your tree down, the question becomes; What do I do with it? The following are recycling and disposal ideas for your consideration:
• Most municipalities across the country offer Christmas tree pickup services or recycling programs that begin after Christmas and run through mid to late January. Check your city's or disposal service's website for pickup times and further instructions.
• Add the tree to your compost pile. You may need to cut it into small segments.
• Cut off the branches and lay them flat in garden beds as mulch. By mid to late spring, the needles will have fallen off, and the twigs can be added to your compost pile.
• Submerge the tree in a pond (if you have access and permission to do so). The slowly decomposing tree will provide years of added structure to the pond and become a feeding refuge for fish.
• Turn the tree into a bird feeder. Place the tree in the garden or corner of your landscape and decorate it with strung popcorn and/or peanut butter and birdseed covered pinecones. Local birds will use the tree for refuge while migrating birds may use it for a resting location.
Tip: If your tree dries out and becomes brittle at any time, carefully remove all of the decorations and lighting, and remove it from your home. Once your tree has dried out, it becomes an extreme fire hazard.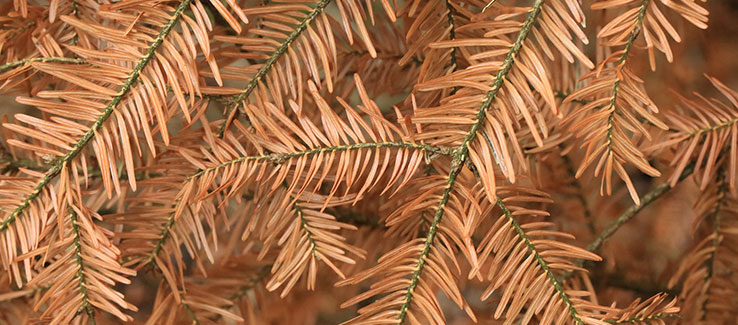 Live Christmas Tree Care
In this article, you discovered care tips to prolong your cut Christmas tree's freshness, how to keep it beautifully decorated, and prevent it from becoming a fire hazard.
By taking simple measures to keep your live Christmas tree fresh, you can maximize your investment and enjoy the beauty of your tree well into the new year.
Your inaction could lead to your tree drying out, becoming a fire hazard, and causing a deadly house fire.
Sources:
realchristmastrees.org/All-About-Trees/Care-Tips
www.forestry.ok.gov/xtree-care
onslow.ces.ncsu.edu/2018/01/recycling-your-christmas-tree/
blogs.ifas.ufl.edu/marionco/2018/12/27/recycling-christmas-tree/
sdda.sd.gov/legacydocs/Forestry/educational-information/PDF/Care-Real-Christmas-Tree.pdf
Fast Tree Removal Services Atlanta
3379 Peachtree Road #555a
,
Atlanta
,
GA
30326
(404) 220-9965
Fast Tree Removal Services Dunwoody
2111 Peachford Cir
,
Dunwoody
,
GA
30338
(404) 220-9963