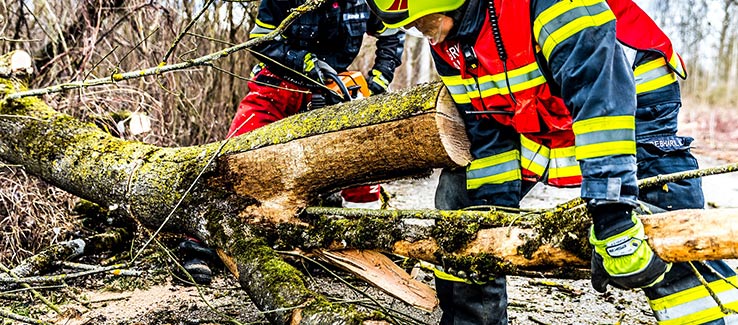 Prevent your storm-damaged tree from dying or falling and causing catastrophic property damages. By knowing how to help and repair your tree after suffering storm damages, you can potentially avoid the need for its removal.
fasttreeremovalatlanta.com gathered the following information on how to assess tree damage, treat a damaged tree, determine when a tree should be removed, and what you can do to prevent tree storm damage.
Assessing Tree Storm Damage
Before determining that your tree is beyond saving, assess the tree by asking the following six questions about the visible state of the tree.
Question #1 – Are the tree's largest limbs damaged or broken?
Recommendation – If your tree has lost its largest or a majority of its limbs, it will likely not survive. Consider contracting a professional tree service to remove the tree.
Question #2 – Was the leader (the main upward extension of the trunk) lost in the storm?
Recommendation – This is a judgment call on your part. Your tree may survive losing its leader but will likely grow deformed and/or stunted.
Question #3 – Has the tree lost more than 30% of its crown?
Recommendation – When a tree loses more than 30% of its crown, there may not be enough foliage left to provide nourishment to it. Trees in this situation need to be closely monitored and removed if there is no evidence of recovery in the following growing season.
Question #4 – Looking at the damaged crown, can you identify enough healthy branches that can reconstitute both branch structure and crown foliage.
Recommendation – If the answer is yes, allow the tree several growing seasons to "fill out" the crown. If the tree declines and cannot rebound from its damages, you will know that the answer was no.
Question #5 – Is there extensive bark damage?
Recommendation – In cases where there are multiple areas of bark damage on the trunk and/or larger branches, disease and insect infestation are of significant concern. Read more about how you can treat bark damage at fasttreeremovalatlanta.com/handling-tree-bark-damage
Question #6 – Is your tree healthy?
Recommendation – If your tree was already in decline (from disease or infestation) before suffering storm damage, you should immediately request a tree hazard assessment. If the tree was healthy, thriving, and did not suffer extreme damages, it should recover if cared for after the storm.
Note: Before determining the fate of your tree, take into consideration that, after sustaining weather-related damages, healthy trees will typically go through a phase of rapid growth over several growing seasons.
Tip: If at any time you experience difficulty in determining whether or not to keep your tree, request a tree hazard assessment by a professional tree service.
How To Treat Tree Storm Damage
After any severe weather event, your tree(s) should be examined for damages. Once you have clearly identified damaged areas of your tree, consider the following:
Prune damaged limbs back, at least one foot before the damage towards the trunk
Prune the limb/branch off the tree if the damages are too close to the trunk
If there is significant structural damage to the trunk, including splits and/or cracks, a professional tree service should be hired to remove the tree. This type of damage is dangerous and holds the potential to quickly turn life-threatening.
Continue to promote the health of a damaged tree through:
Watering
Mulching
Fertilizing
Seasonal Pruning
Annual Inspections
Providing your tree with the means to thrive will help it overcome most weather damage on its own.
Emergency Tree Removal After Storm Damage
When severe weather leaves your tree swaying, leaning, caused windsnap (broken off at the trunk), or windthrow (uprooted and blown over), the tree should be removed from your property immediately. To learn more about or contract an emergency tree removal service, visit fasttreeremovalatlanta.com/emergency-tree-removal-atlanta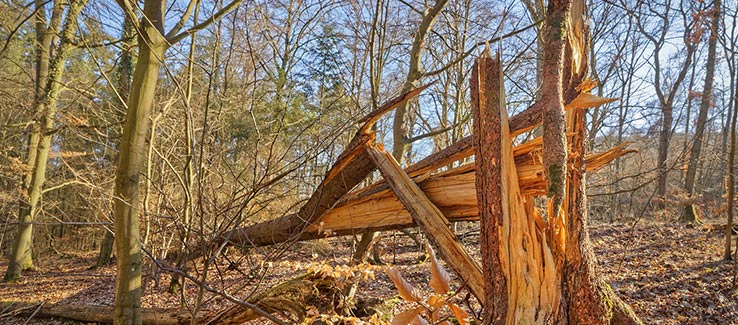 Note: For trees planted in rows, the emergency removal of any one of those trees may cause adjacent trees to lose their stability. Trees planted near one another will frequently use each other's root plate for shared stability. Trees growing under these conditions must be professionally evaluated before their removal.
How To Prevent Tree Storm Damage
Controlling the impact of weather is possible in small scale scenarios. Objects and structures like walls, buildings, fences, hills, and shrubs can shield a tree from being severely damaged. It is when nature unleashes severe weather systems that a tree is truly put to the test.
Instead of relying on reactive treatment for damages, you can dramatically increase your tree's strengths by being proactive and supporting its health before severe weather strikes. Consider the following measures to improve the vitality of your tree:
Watering
Mulching
Fertilizing
Seasonal Pruning
Annual Inspections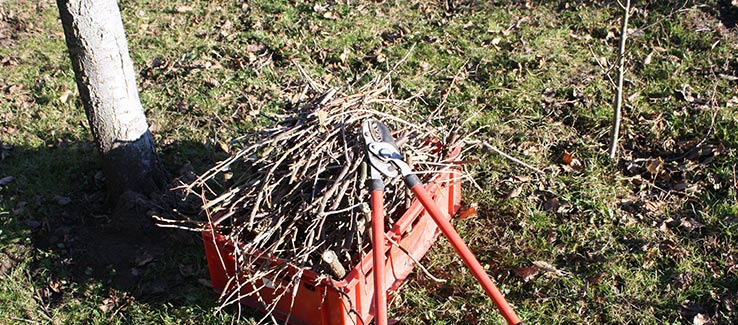 Note: These are the same measures you would use to promote a tree's health after suffering significant weather-related damages.
Storm Damaged Tree
In this article, you discovered how to assess tree damages after a severe weather event, treat the damages, keep or remove the tree, and how to prevent weather damage.
By knowing how to identify and treat storm damage to trees, you can significantly extend their lifespan while substantially increasing their resistance.
Ignoring your trees after severe weather events creates the perfect environment for catastrophic property damages and potential fatalities.
Sources:
agrilife.org/treecarekit/after-the-storm/repairing-storm-damaged-trees/
arborday.org/media/stormrecovery/4_treefirstaid.cfm
texashelp.tamu.edu/browse/by-type/naturally-occurring/severe-weather/trees/
extension.purdue.edu/extmedia/fnr/fnr-faq-12-w.pdf
Fast Tree Removal Services Atlanta
3379 Peachtree Road #555a
,
Atlanta
,
GA
30326
(404) 220-9965
Fast Tree Removal Services Dunwoody
2111 Peachford Cir
,
Dunwoody
,
GA
30338
(404) 220-9963