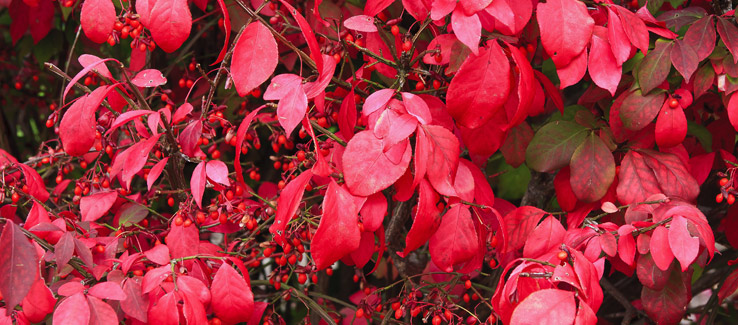 6 Colorful Plants Trees and Shrubs for your Atlanta GA Fall Yard
Fall has arrived in all its glory. The trees, plants and shrubs are brilliantly changing colors and providing one of the greatest natural – living – spectacles for us to watch.
Adding colorful trees, shrubs and plants to your landscape is simple. The seemingly daunting task is to choose which variety, colors, size and shape of trees and shrubs. Below we compiled a list of some great choices, but Fast Tree of Atlanta GA stands ready to help you in the decision making process as well as the groundwork.
Characteristics of Plant Tree and Shrub Species
Let's take a look at a few beautiful tree, shrub, and plant options.
Calendula – Flowering plant with bright yellow, classic orange or mild shades of cream and soft yellow, Calendula lends its colors from late fall through spring.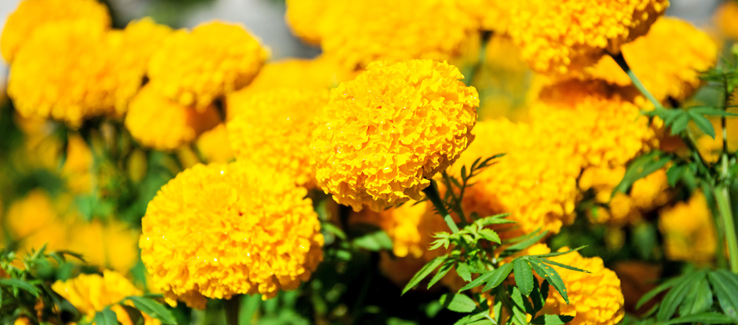 With the exception of very cold climates, calendula (marigolds) have the ability to adapt quickly and grow well throughout the year.
Calendula can reach 1 to 2 feet high and 1 to 1½ feet wide. Moderate water and full sun will keep this beautiful option happy in your garden.
Dogwoods – What would an Atlanta garden be without dogwood trees? Dogwoods put on a show all the time and – strategically placed – provide a beautifully colored ebb and flow to any landscape.
Red twig dogwoods are particularly amazing. Their leaves turn to a brilliant red or a deep reddish purple before they drop, then revealing the red stems!
Growing 3 to 4 feet in height, the 'Arctic Fire' variety will give the reddest stems.
Whichever variety you choose, springtime brings clusters of white flowers with eventual fruit (white to red-purple), attracting birds to your Atlanta garden!
It's no wonder dogwoods are so popular. They bring both color and life to the party – how cool is that?!
Candytuft – Flowering plant with pure white clusters, candytuft is sure to catch your eye twice! They bloom in the spring and again in the fall.
This is an easy to care for evergreen plant. In areas where the winters are severe or have extended freezing periods, be sure to water them well in the fall. This will help them survive the cold.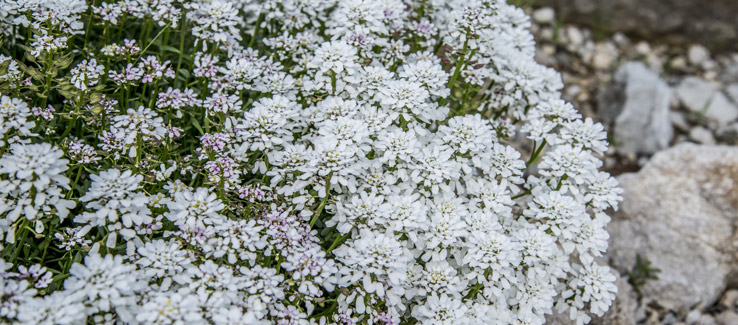 Growing 8 to 12 inches tall and wide, your candytuft will thrive in full sun and with regular water.
Female Spicebush – A plant or shrub with ½ inch berries that turn from green to yellow then to glossy crimson as its leaves turn to a mesmerizing yellow, a female spicebush will provide a particularly awesome show in the fall.
Spicebushes are dioecious. When purchasing the plants, be sure to acquire a male and a female.
The male will flower in the spring while the female takes over in the fall. Planting them within proximity of each other will help them to thrive and bloom year after year.
With proper care and planted in the right environment, a spicebush plant can become a 5 to 8 foot shrub a bit wider than tall.
Common Witch Hazel – is a fall-flowering, head turning shrub and tree. With four-petal golden flowers and brilliant yellow leaves, this beauty is sure to be a hit on your landscaping!
With the ability to reach from 8 to a whopping 25 feet tall, the common witch hazel can be classified as either a shrub or a tree.
Witch Hazel is a robust addition to landscapes in zones 3 through 8 on the Hardiness Zone Map. It is tolerant to weather adversity and should be planted in an area with well-watered and drained soil.
You can expect to see birds and butterflies with the common witch hazel. The birds will come for the seeds, while the spring azure butterfly larvae prefer it as a home.
Gingkos – Add a living tree fossil to your landscape! Seriously. Gingkos are the remnants of tree varieties that were found worldwide some 200 million years ago.
In the fall, an absolutely amazing show of yellow will dazzle onlookers as the leaves change to welcome in the coming cold weather.

With fan-shaped leaves resembling maidenhair fern leaves, the gingko is often referred to as the "maidenhair tree".
Gingkos will grow anywhere from 40 to 80 feet often times with an umbrella shaped canopy.
Popular Tree Recommendations From Your Yard Experts
Choosing which trees, shrubs and plants to add to your yard can be a bit daunting. Are they tall enough? Are they wide enough? Are the roots invasive? Are they high maintenance? How often will I be watering them?
When planting a yard or landscape, you are creating an ecosystem. Animals, plants, and even fungi will all play a role in its growth and overall health, so avoid impulse buys and make informed decisions about what you want growing where.
Whether making improvements to current landscaping or starting from the ground up (pun intended), let our team of tree experts help in your decision making process. May your fall yard be bright!
Fast Tree Removal Services Atlanta
3379 Peachtree Road #555a
,
Atlanta
,
GA
30326
(404) 220-9965