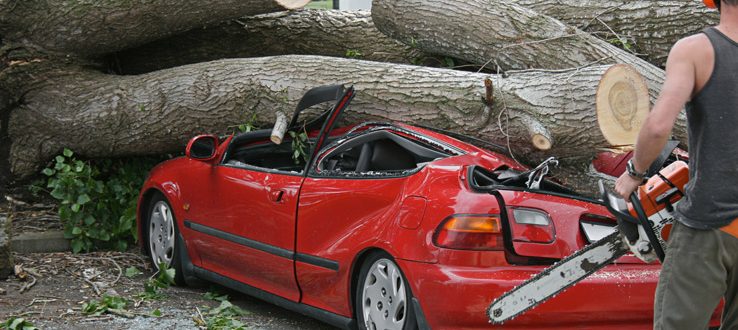 A Tree Falls on My Car – Who Is Responsible?
Trees are able to grow tall and can weigh thousands of pounds as they age. Our emergency tree removal division quickly saw one of the most unsettling experiences with a tree is to innocently park your car near one, and return to find the tree through or lying across your car!
What happens, who do you call, and who is responsible?
Once the adrenaline rush subsides and you catch your breath, the information outlined below will guide you through the basic steps to resolve this situation.
Can I File an Insurance Claim If a Tree Falls on My Car?
Yes. Regardless of the property or tree owner (neighbor, City, business, or your own), when a tree falls on your vehicle, it is an auto insurance claim covered under the policy's "comprehensive" clause since it was the tree that hit your vehicle and not your vehicle that hit the tree.
My Tree Falls on My Car
If a tree from your yard falls on your car, this activates your auto insurance policy's comprehensive part. You will have to pay for damages up to the amount of your policy's deductible before your insurance will release any funds or payments. However, due to premises liability, your insurance carrier may deny your claim.
Premises liability, commonly referred to as the "visible rot rule" states that you can be held solely liable for injuries and damages caused by a falling tree that you knew had visible damage, rot, or decay.
You can avoid these costly problems by hiring an arborist or professional tree service to perform periodic tree hazard assessments and prune diseased or dead wood from your tree(s).
My Neighbor's Tree Fell on My Car
When your neighbor's tree falls (by "Force Majeure") on your car, it is not your neighbor's responsibility.
This may sound strange, but It is – in fact – an auto insurance claim. "Force Majeure" is French for an "act of God". Used in insurance policies, this clause removes liability for natural or unavoidable occurrences resulting in damages or loss of property. Your insurance policy will further define coverage and limitations of this clause. The comprehensive part of your policy is what covers the claim, thus document everything.
Take note of the date and time, weather conditions, and the exact location of the incident. Take pictures from several angles, and take a video of the incident while walking around the affected area. Videos are very beneficial, and hundreds of images can be extracted from a single video. Be ready to provide your insurance company with all of this documented evidence, which is necessary to build a case and recover your losses.
Your Insurance Claim and Policy Coverage
Once you have called in the claim to your insurance company, they will dispatch an adjuster to the location to evaluate the extent of the damages. The adjuster will determine what steps need to be taken to repair or replace the vehicle, and advise you on any further steps you may need to take to fully resolve the issue.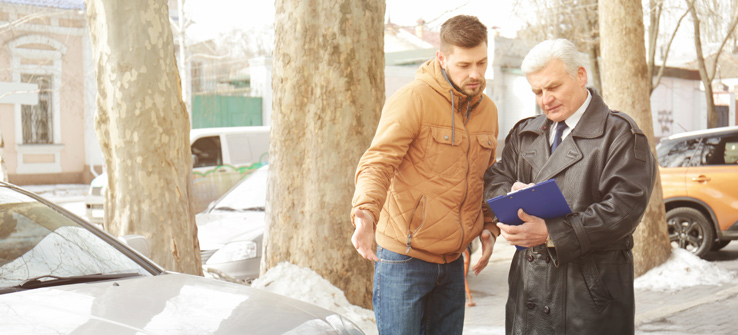 If you are unhappy with the assessment of your insurance adjuster, it may be wise to seek the opinion of a public adjuster. These insurance specialists are independent professionals that advocate on your behalf against providers that attempt to underpay claims.
However, you must have comprehensive insurance coverage before the incident occurs for the claim to be covered and settled. If you do not have comprehensive coverage, it is likely that all expenses for repair or replacement of your vehicle will be your out-of-pocket expense.
*TIP: Most auto insurance policies with comprehensive coverage will also get you into a rental vehicle while the claim is being resolved.
My Tree Fell on My Neighbor's Car
While this may seriously strain the relationship with your neighbor, the extent of your responsibility may only be to remove the portion of the fallen tree on your property up to your neighbor's property line. Your neighbor will have to contact his/her insurance carrier to have their vehicle repaired or replaced.
Depending on the city in which you reside, there may be codes, statutes, and laws which assign responsibilities to the property owner from which the tree fell. For example, if you were lawfully notified that your tree was diseased, dying, or dead, and you did nothing to remedy the situation, you may be solely responsible for the removal of the tree and its damage.
A Public Tree Fell on My Car
When a public tree falls on your car, dial 9-1-1, and follow the instructions of the emergency operator. Then immediately call your automobile insurance company to get started with filing a claim and getting a rental vehicle (if necessary).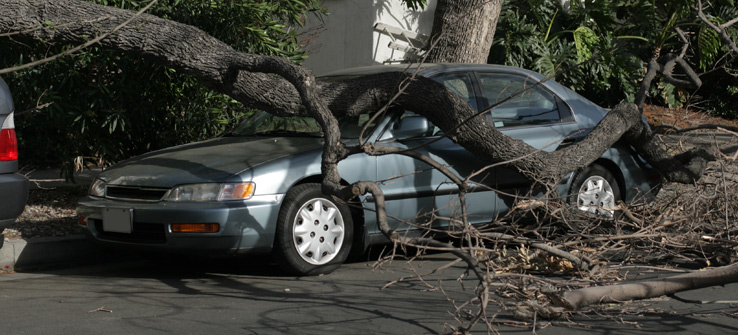 Similar to when a neighbor's tree falls on your car (by an act of nature), it is not the city's responsibility to pay for repairs or replacement. It is – once again – an automobile insurance claim. And it is the comprehensive part of your policy which covers the claim.
As in all of the above situations, document everything. Again, note the date, time, weather conditions, and exact location of the incident. Take pictures from several angles, and be ready to provide all of this information to your insurance company.
What Kind of Car Insurance Covers Damages from a Fallen Tree?
As previously mentioned, it is a comprehensive coverage policy that covers the types of claims and damages discussed above. Before the incident occurs, you must possess comprehensive coverage for the claim to be settled and paid.
If there is a deductible worked into your policy, it must be met before your insurance company will help pay for damages or the replacement of your vehicle.
Now that you are aware of the necessary coverage, we will cover how to handle various automotive emergency tree removal situations.
What Do I Do with the Damaged and Fallen Tree?
Once the issue of the vehicle has been taken care of, the tree should take center stage. The following will help you understand the responsibilities of each property owner in the tree's removal.
Your Own Tree Falls on Your Property – You can either cut the tree up yourself or contract a tree service to cut and remove the tree.
Your Tree Falls Into Your Neighbor's Yard – In most cases, the responsibility to remove the tree will fall on both property owners up to the property line. Depending on the relationship you maintain with your neighbor(s), splitting the cost of a tree company to have the entire tree removed may be a workable solution. Otherwise, you may contract a service to have the portion on your property removed.
You Were Notified or You Warned Your Neighbor – As previously mentioned, if you were lawfully notified that the tree in question was diseased, dead or dying and required to take action before its falling, you/they can be held responsible for the removal of the tree and all damages it may have caused.
The city in which you reside may regulate how these situations are dealt with through codes, statutes, and laws which assign responsibilities to the property owner from which the tree fell. If in Atlanta, click here for the City of Atlanta's Tree Ordinance Code, otherwise consult your city's website for more detailed information.
If you are the "neighbor" in this situation, maintain your composure, and work with your neighbor or local city officials to get the situation resolved. You will need undisputable documentation or evidence that proves you notified your neighbor of an impending danger related to the diseased or threatening tree. If the tree caused damage to your home, notify your home owner's insurance provider, as this is a separate claim.
How Can I Prevent a Tree from Falling?
Remember, trees don't decide when or where they are going to fall. They come down with tremendous destructive power, able to cause severe damage to property, and can be lethal if someone is in their path. Keeping them healthy and disease free is the key to avoiding a tree emergency.
Seasonal trimming and pruning should be a part of your routine landscape maintenance. If you sense sickness or disease, arborists are tree professionals trained to recognize and resolve problems with trees in their beginning stages. Call a tree service or certified arborist to schedule an annual or seasonal inspection of your trees. Take action today and protect your vehicle from the wrath of the next storm.
Fast Tree Removal Services Atlanta
3379 Peachtree Road #555a
, 
Atlanta
, 
GA
30326
(404) 220-9965
A Tree Fell On My Car
,
Atlanta Tree Service
,
Auto Insurance
,
Automobile Insurance
,
Car Insurance
,
Car Insurance Claim
,
City of Atlanta Tree Ordinance
,
City Tree Fell On My Car
,
Damaged Tree
,
emergency tree removal atlanta
,
Insurance Adjuster
,
Insurance Claim
,
Landlord or Auto Insurance Coverage for Tree Damage
,
tree cutting services
,
Tree Emergency
,
tree removal atlanta
,
What Insurance Covers This
,
Who Is Responsible
,
Who Pays For Tree Damages